Features & Specifications
Our indoor/outdoor lift is a safe, simple, and reliable vertical platform lift, like a mini home elevator. Often called a porch lift, this residential vertical platform lift is an affordable home accessibility solution to give walker, scooter, and wheelchair users an alternative to entryway, deck, or interior steps. No need for long extended ramps. It is also great for bringing in groceries!
Do you want to know more about our Affordable Lifts? Here is the list of features and specifications for our lifts. We know that each situation is different. We can customize your lift to meet your needs. Do you want a different gating configuration so that you can make a right hand turn to enter or leave the platform? Just ask. Do you need a larger or smaller platform or a different weight capacity? Just ask. Do you need galvanizing options for your beach location? Just ask. If you need something, chances are we have done it before and we can do it again!
Benefits
Makes it possible for someone to remain in their comfortable home environment.
Enriches social life.
Much easier and safer home ingress and egress.
Lower cost than alternatives.
Flexible configuration and portability retains high resale value.
Features
From three inches to 20+ feet of lift – depending on the model and options you choose.
500 lbs. or more platform lifting capacity. (This can be customized to 750 lbs.)
Indoor or outdoor.
Easy to install.
Uses standard household electrical power with a standard three prong plug. Battery power is optional.
Gates are removable and can easily be hinged from either side. The standard configuration has a right or left end gate and an opposite opening for a straight through passage. A front gate is available if you need to make a right or left hand turn when on the platform.
The handheld lift controls are attached by a tether, so either a rider or non-rider can operate it. Wireless controls are also available.
Adjustable automatic safety stop height makes it easy to use.
Fail-safe mechanism in case of hoist or cable issues.
Can be disassembled and installed in interior rooms.
Specifications
Lifting Height: From five inches up to 20+ feet, depending on what you buy.
Rated Load: 500 lbs, but can be customized to 750 lbs.
Drive: 1,500 lbs cable hoist, 1/2 hp motor. Optional upgrade to 2000 or 3500 lbs cable hoist.
Power Supply: 115 VAC – 15 amp grounded circuit. DC hoists are available as an option.
Platform: 36″ by 46″ steel platform (size can be customized), 32″ high hand railing, a removable and reversible gate on one end. With the gate closed the interior dimensions of the standard platform are 34″ x 46″.
Footprint: 42″ by 52″. The standard lift is 75" tall. Customizing your lift may change how tall it is. For example, a lift configured for a 48″ rise is 100″ tall.
Speed: 12 feet per minute. This varies slightly depending on your choice of hoist motor and weight capacity.
Controls: Hand held control with up and down buttons. Attached by a tether so either a rider or non-rider can operate it. Wireless controllers are also a popular option.
Safety Features: Auto break on cable drum. Adjustable auto stop switch at top. Auto stop switch at bottom.
Station stop switch adjustable for the height of your landing.
Warranty: One year on all parts (except paint scratches), three months for labor.
Weight: Unit weighs around 500 lbs. The precise weight depends on its height.
Motor Noise Level: 75 decibels at zero feet at full load (which for this motor is 1,500 lbs.). 
Some Non Features
Why is this lift so much less expensive than alternatives? Well, most lifts are made for public, commercial use and are required to have all kinds of bells and whistles that residential units are not required to have. Here are a few features that those lifts usually must have that this lift does not in order to make it affordable:
The basic model of this lift does not have a battery backup. But since it runs off of household current, any home generator can fulfill that purpose. (A battery powered hoist is available as an option. A power inverter is also available as an upgrade and can be combined with the appropriate battery to act as a battery back up. Inquire if you are interested.)
This lift does not have a key-switch that will keep the grandkids from playing on it. But it does allow you to secure the controller with a padlock, which accomplishes the same thing as a key-switch.
This lift does not have a pan-switch. In order to make sure the lift platform is not coming down on top of Fluffy the cat, you will need to look down through the mesh floor and make sure Fluffy is not under you.
The basic model of this lift does not have "Call Buttons" that will call the lift platform to your level. Instead it has an up and a down button on an easy to reach control box that is attached to the lift by a tether. (Wireless "Call Buttons" can be added as a customization.)
This lift does not have fancy gate safety interlocks. It does not have self-closing gates. You are responsible for locking your gate before pushing a button to go up or down.
This lift does not have a weight sensor that will disable the motor if too much weight is on the platform. You'll need to be sure the weight on the platform does not exceed your lift's capacity.
Standard Configuration
The standard lift configuration of gating and controls is seen in the photo below with the platform in the lowered position.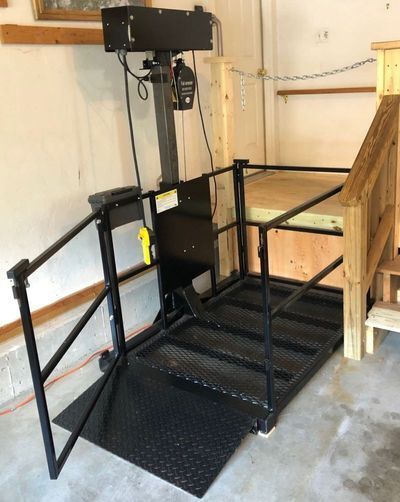 Note that in this photo:
In the lowered position, as you enter the platform, a gate's hinges, the controls, and the lift's main post are all on your left.
In the raised position as you exit the platform, a gate's hinges are on your right.
You have an identical "bridge" at both ends of the platform, so either end of the platform can serve as the lower entrance or lower exit if you place the ramp there.
You can easily make a gate hinge on whichever side you prefer. The controls and the lift's main column must always be on the same side. We recommend placing the main column on the same side of the lift as a nearby wall.
We will build your lift when we get your order. If you do not want the standard lift configuration described above, then let your salesman know prior to finalizing your order.
Ramps
Depending on your situation, you may or may not want a small 2.75″ high threshold ramp to go from your floor up to the floor of the lift's platform. In many cases, it is not needed or you may opt to supply your own. If you are laying pavers or pouring a concrete slab, you can avoid the need for a ramp altogether by having the lift sit 2.75″ lower than the surrounding floor. Just be sure that water drainage will not be a problem if your lift is outdoors.
If you want to get one of our steel diamond plate ramps, please let us know when you place your order. Our standard ramp measures 34″ by 16″ and weighs 27 lbs. It is skid resistant and very rugged. We can also customize this ramp to be longer or shorter.
Wheels
If your lift is not a tall lift, then it is portable. While you are not going to toss your lift into the trunk of your car, if you have a dolly or the optional Wheel Kit, you can roll it across a flat surface or down a hallway. You can roll it onto a utility trailer and transport it somewhere. Just remember it weighs around 500 lbs. You should consider this a two-person job.
Simply place a dolly underneath the column and carefully lean the lift backwards, then roll it. An even better way to move the lift is to purchase the optional Wheel Kit. Just attach the two 8″ wheels to the lift's base and the entire lift turns into a dolly that you can lean back and move. The attachment positions of the wheels from the Wheel Kit makes them easier to use than a dolly.
To purchase a Wheel Kit, simply ask for one when you place your lift order.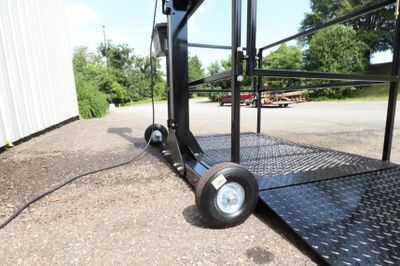 Miscellaneous Tips
A gate may clang as you shut it. If this bothers you, you can affix some black felt to the gate latch and pin hole. This reduces any rattle considerably.
Insure that the rider cannot poke out their foot and get it caught in the supports of the landing as the lift platform moves up or down. Do this by placing a piece of plywood vertically between the platform and the landing's supports. The platform upper exit's edge should remain around 1/2″ from this wood as it moves up or down.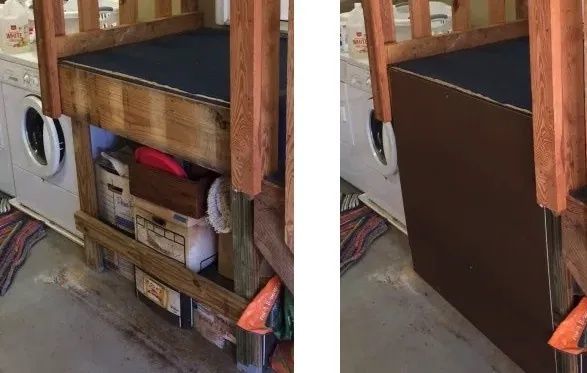 Above are the before and after photos for this safety precaution.
The lift's platform is as stable as a hospital lift, but if any bounce at all bothers the rider, bracing will solve the problem and is easy to add. This enhancement is not necessary for safety for short lifts, but is quite effective and inexpensive. All tall lifts are required to be safely braced. If you want to learn more about bracing, then contact us.