Common Customizations
Want to know how we can make a lift specific to your unique situation? Here are some of our more common customizations, but if you need something beyond what is listed, please ask us via the Contact Us page or give us a call at 757-982-3665 and we will see what we can do to accommodate your needs.
Customizations
Increased weight capacity
Generous intervals of platforms sizes, customizable down to the inch
Different entry ramp sizes
Custom colors from a broad palette (see below)
Galvanizing options to protect from rust in salty environments
Back Up Power Supply for uninterrupted usage during power outages
Wireless controls
Mesh or solid walls that can either be half height or full height
Solid flooring instead of our standard mesh floor
Variety of different gating configurations
Wheel kit to make it easier to move short lifts, when needed
Canopy frame to shield lift users from rain or sun
Different bracing options for bracing the top of taller lifts
And more!
Custom Colors
Custom colors are available. Remember that some colors show dirt and scuff marks easily.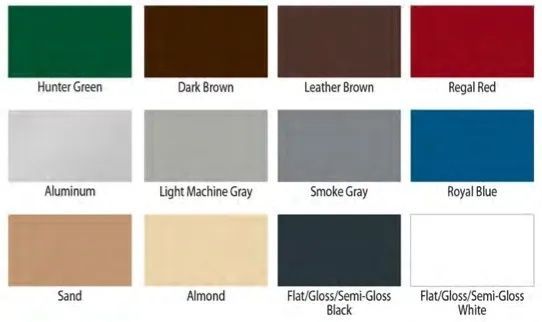 The above colors have a Gloss finish unless otherwise indicated.
Gloss Black is the default color and is included in the base price. The colors in the palate above are available for a $300 or $325 upgrade fee, depending on the color chosen. Other colors will require a special quote and depend on availability.
Here are some custom painted Affordable Wheelchair Lifts