Installation
For step by step directions on how to install your Affordable Lift, please see the Manuals/Guides page.
The information below is for general overview purposes only. Do not install your lift without reference to your manual. If you have any questions about installing your lift, please contact Customer Support at 434-515-2321. Be ready to provide your Serial Number, found on the safety guard of your lift, and contact information when you call to help us best assist you.
Installation: Unassembled Lifts
The lift arrives wrapped in plastic and cardboard and bolted to a wooden pallet. You can have it shipped either disassembled or pre-assembled, depending on what you want to pay for shipping. Any handyman should be able to install this lift.
Prepare the area for the lift. The standard lift's footprint is 52″ by 42″ (if you customized your platform size, your lift's footprint may vary). Be sure to allow enough flat space at the entrance and exit for the 36″ gates to swing open and for a wheelchair or walker to be safely used. 
Your lift will arrive looking something like this if it is shipped disassembled: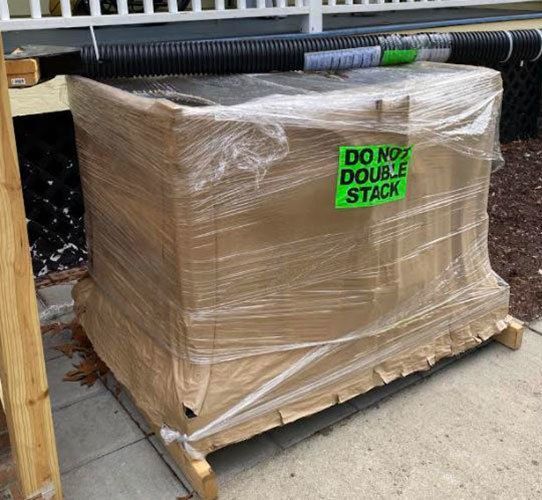 Installation Steps if Shipped Pre-assembled:
(please note this is a brief overview. Always read your Installation Manual prior to installing or assembling):
Remove the plastic wrapping and unbolt the lift from the shipping pallet.
Attach the Wheel Kit (optional) so you can wheel the lift into position. If you did not opt to get the Wheel Kit, you can use a dolly.
Tilt the lift back like a dolly and wheel it into position on a firm, flat surface such as asphalt, a concrete pad, or pavers.
Your Affordable Lift is heavy, so have someone else help you move it or have two people move it for you.
Remove the temporary wheels or dolly.
Snip the cable ties that are securing the lift's power and control cords.
Plug the power cord into a standard outlet. If you are outside, make sure the outlet is waterproof and GFI rated.
Optionally, you can bolt the lift down using bolts and other hardware. This will prevent the lift from moving over time. We advise you to wait on bolting it down until you are sure you will not need to adjust its position.
Test the lift.
Adjust the auto-stop so that the platform stops moving at the correct height for your particular landing.
For a pair of adults, this will take roughly two hours, most of which is spent preparing the site itself. No special tools were required. Your experience may vary depending on your situation.